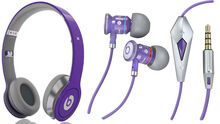 The Beats By Dr. Dre "Justbeats" Edition headphones and earbuds have been designed for those who have caught the Bieber Fever. Coming in Justin's favorite color (purple), the on-ear JustBeats are $199.95, with the in-ear JustBeats being $119.95.
Ad blocker interference detected!
Wikia is a free-to-use site that makes money from advertising. We have a modified experience for viewers using ad blockers

Wikia is not accessible if you've made further modifications. Remove the custom ad blocker rule(s) and the page will load as expected.