His nail-varnish range is called One Less Lonely Girl collection for Nicole by OPI and came out in the USA just before Christmas. All of Justin's nail varnishes are really glittery and fans have been raving about them because they look so good and don't streak as much as some nail varnishes do. In buying a bottle they are also helping the Pencils of Promise charity because OPI agreed with Justin that some of the profits would go to his favorite charity.
The colors:
Edit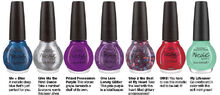 Me + Blue (dark blue)
Give Me The First Dance (silver)
Prized Possession Purple (dark purple)
One Less Lonely Glitter (lavender)
Step 2 the Beat of My Heart (clear with metallic stars and glitter)
OMB! (red)
My Lifesaver (mint green)
Ad blocker interference detected!
Wikia is a free-to-use site that makes money from advertising. We have a modified experience for viewers using ad blockers

Wikia is not accessible if you've made further modifications. Remove the custom ad blocker rule(s) and the page will load as expected.