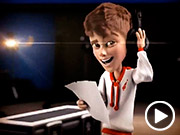 Halloween season is over, which means Christmas season is officially on the way, at least in retail establishments and maybe on some very enthusiastic neighbors' yards. But for Bieber fans, Christmas season means Justin Bieber's new Christmas songs and music videos!
In Justin Bieber's new music video, Santa Claus is Coming to Town, he will be portrayed by an animated clay version of himself, and transported into the classic claymation world of Rankin-Bass Christmas specials.
Now, the main question here is...who's cuter, the Biebs or his clay counterpart?
Source: music-mix.ew.com
Ad blocker interference detected!
Wikia is a free-to-use site that makes money from advertising. We have a modified experience for viewers using ad blockers

Wikia is not accessible if you've made further modifications. Remove the custom ad blocker rule(s) and the page will load as expected.